Our club communicates through our Facebook Group.  Please join the group to stay up to date!
https://www.facebook.com/groups/ucsdtabletennis/
The Sport:                                                                                                                                                                                               
Table Tennis, also known by its trademarked name "Ping-Pong," is among the most popular sports in the world (second only to soccer according to www.usatt.org) and possesses the most member national associations of any sport in the world.   This is owed to table tennis' great accessibility at all levels, ages, and abilities; one may play it as a relaxing recreational game, or as an intensely competitive sport requiring explosive athleticism, tactical thinking, and rigorous training.  The top 100 ranked table tennis athletes in the sport range from as young as 13 to over 60, with an enormous variety of play styles and physical abilities represented across the world!
Although table tennis originated in England, today the sport is dominated by the likes of China, Sweden, Germany, Korea, and Japan.  The last decade has seen an explosion of growth in the number of table tennis facilities and clubs opening across the US, as well as table tennis themed bars and nightclubs.  ESPN, the major sports channel in the US has shown over 100 hours of table tennis in the past few years.  Table tennis video games produced by Nintendo, Kinect Sports, and Rockstar Games have already begun teaching future players the rules of the game.  Motion pictures and anime series like "Balls of Fury," "Table Tennis the Animation," and most recently, "Shakunetsu no Takkyū Musume" have increased awareness of the sport amongst Americans.
From its worldwide popularity, table tennis has evolved into an endless variety of styles ranging from the extremely defensive relying on high-arcing lobs and slow heavy backspin to outlast their opponents, to the all-out offensive loading up on blistering topspin rips and sheer physicality to end points outright.  You don't have to be confined to playing a single position or repetitive style like many other sports, and the diversity of modern equipment enables players to make spectacularly creative plays!  Come and try all your skills; test your footwork, speed, power, coordination, strategic thinking, reflexes, and endurance.  Or, just have fun with your buddies and play around at our open practices!
The Club:                                                                                                                                                                                                
The UC San Diego Table Tennis Club meets Mondays from 8:00pm-11:00pm and Thursday from 8:00pm-9:30pm in the basketball court area of Main Gymnasium at Muir.  We provide quality practice balls and this year doubled our number of USATT-approved tables from 6 to 12 tables!  Players of all levels are welcome!  Even with a few varsity members around, beginners are encouraged to play and even ask the advanced players for advice.  In fact, many of the members are former volunteer or paid coaches and will gladly assist.  The playing atmosphere is informal; you may either challenge anyone to a friendly match, or practice your skills with a partner of your choice.
Twice a season, UCSD competes in a divisional meet with several other Southern California schools, including UCLA, USC, UCI, CalTech, CSU Northridge, Cal Poly SLO, and more.  This league is governed by the National Collegiate Table Tennis Association (www.nctta.org), and the top finishers of the division are guaranteed a spot to compete in the West Regional Championships in February, and from there will compete to qualify for the College National Championships in April.
Currently, the main competition for the varsity Tritons (preseason national ranking #20) in Southern California is UCLA (#9).  With possibly the highest concentration of solid players and teams in the country, rivaled only by the Northern California division, the SoCal league makes for tough, healthy competition for all schools involved.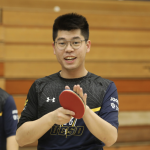 This West Regionals tournament was an especially intense tournament. Read More>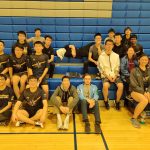 This tournament was a huge success for UCSD. Women's Varsity, JV2, JV3, and won all of their matches, while JV1, JV2, and Co Ed Varsity won all except for one match each. Read More>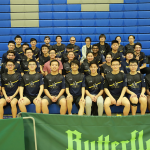 The first divisional tournament for UCSD's Table Tennis Club was a huge success. We sent five teams of varying levels, including a Varsity, Junior Varsity 1 thru 3, and a Women's Varsity team. Read More>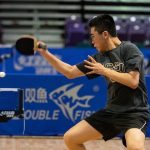 Our team came into the NCTTA ISET Nationals as the 17th seed with mostly young second and first year student athletes, but nonetheless ready to play. UCSD started in a very tough round robin group against UC Berkeley (seed 5), U.T. Austin (seed 13), and UIC (seed 20). Read More>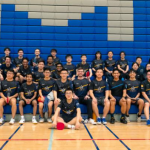 UC San Diego's Club Table Tennis Team had a tough but nonetheless enjoyable 2nd Collegiate Divisional. Co-ed Varsity placed third out of four teams in the Southern California East Division, winning 4-0 against CSU Long Beach, but losing two close 2-3 matches against University of Southern California and University of California, Irvine. Read More>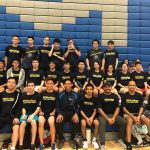 The first collegiate divisional tournament this year was a great success for UC San Diego's Club Table Tennis Team. Co-ed Varsity gained some new hard hitters such as Jay Ong, the quick and powerful attacker from Australia. Read More>