The UC San Diego Dancesport Team is a competitive ballroom and latin dance team. Our mission is to provide an inclusive and welcoming community and give opportunities to gain technical, performance, and competitive Ballroom and Latin dance skills. We seek to provide these opportunities with as little student financial contribution as possible.
Our team focuses on learning International style dancing. For Latin, this includes cha-cha, samba, rumba, paso doble, and jive. Ballroom includes waltz, tango, foxtrot, quickstep, and Viennese waltz. Additionally, we learn social, or "nightclub" dances such as salsa, swing, bachata, and more! There is also opportunity for additional practice in other styles of dance.
Every March, we host our own competition at UCSD called Dance by the Shores. In addition, we travel throughout the year to various other collegiate competitions, including those held by Cal Poly SLO, UC Santa Barbara, and University of Nevada Las Vegas. Members of the team are also invited to perform at various events throughout the year, including our Spring Showcase.
At competitions and performances, the UC San Diego Dancesport Team performs a group routine. The performance brings together multiple couples to do a medley routine composed of Latin and/or Ballroom dances. Past themes for routines have included the following: Zoolander, Indiana Jones, Superheroes, Aerosmith, and more. Many of these routines are available to view on YouTube (simply type in UCSD Dancesport).
Couples may also compete individually, as a lead and follow pair, at collegiate competitions. Couples are free to choose which and how many styles of dance to compete against couples from schools around the country as well as other couples from UCSD. There are multiple levels ranging from newcomer to advanced, so everyone can compete at a level most comfortable for them. To help those wanting to learn or improve, the UC San Diego Dancesport Team offers practice in choreography as well as technique for all different styles of dance at many different skill levels!
We meet Monday through Thursday at 9 pm in RIMAC Rooms 1-2, starting the Thursday of Week 1. All UCSD students and affiliates are welcome to join at any practice throughout the year! The team welcomes members of any experience level, and you do not need a partner to join. If you would like to join or would like more information, please contact our President (email listed on this site), message our Facebook page "UC San Diego Dancesport", or join our Facebook group at "UC San Diego Dancesport Team *insert academic year, example: 2018-2019* ". We look forward to meeting you!
Dance by the Shores
Couples Registration Form 2020
Team Entry Form 2020 (formation, performance, team match)
Group Waiver
Individual Waiver
Pre-Sale Tickets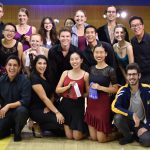 The UCSD Dancesport Team's home competition, the 24th Annual Dance by the Shores, was a remarkable success on many levels. Read More>>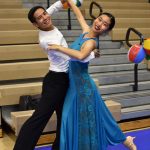 The UCSD Dancesport Team showed their support for the Bruins by competing at UCLA's inaugural competition, the Sunset Classic, hosted as a joint effort between UCLA and USC. Read More>>
The UCSD Dancesport Team started off 2020 strong at Cal Poly SLO's annual competition, the Mustang Ball. Despite being one of the largest competitions of the year, the Tritons did extremely well. Notable results include Matthew Panelo and Emily Liu, who swept the Bronze Standard division, placing 1st in Waltz, Tango, Foxtrot, and Quickstep, as well as 3rd in the Silver Waltz. New members showed their prowess as well, with Thunder Read More>>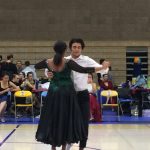 For their second competition of the year, the UCSD Dancesport team took to UC Santa Barbra to attend their annual Beach Ball.  Read More>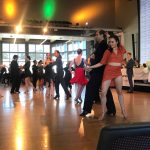 The UCSD Dancesport started the year off with a very successful competition. New and returning members showed up to compete and to support their fellow teammates. Read More>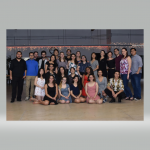 Our team's final event of the season was our team banquet and alumni night hosted at Infinity Dancesport Center which was generously donated to us for the evening. We invited all members who had participated at some point throughout the year to our team's annual banquet and began the night eating catered food from L&L Hawaiian Barbeque. Read More>
UC San Diego Dancesport went to UNLV's Desert Challenge competition April 26-28th. In the International Syllabus Ballroom, Matthew Panelo and Emily Liu won 1st in Newcomer Waltz, 2nd in newcomer Tango, and 2nd in newcomer Quickstep. Read More>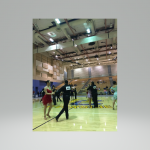 On April 13th, the UCSD Dancesport Team took on the Orange Blossom Ball dance competition hosted by UC Riverside. Unlike other competitions, we drove to the venue on the day of the competition, and had to get up very early to be on time. In order to keep up our energy for the competition, we tried to keep the ride as ebullient as possible. Read More>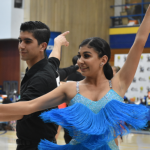 The time has come. We, UCSD Dancesport Team, finally hosted our dance competition. While the idea of hosting one of the largest collegiate competitions in the area may sound as exhausting, frustrating, and stressful to you, the reality is quite the opposite. Read More>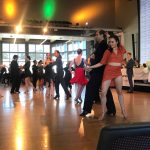 On February 8th, UCSD Dancesport Team set on a journey to their most successful competition for this year. The journey started with the drive to Cal Poly SLO, the host of the competition. Read More>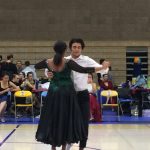 Our team's second event of the season was the UCSB Beach Ball on November 10th. Hosted by the UCSB Cotillion Dance Club, this was the first intercollegiate dancesport competition we attended that offered all amateur dance levels and events. Read More>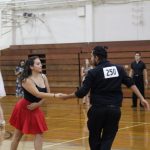 On October 27th, the UCSD Dancesport team went to our first competition of the 2018-2019 season! Hosted by Caltech Ballroom, Rosebud Ball was designed for new dancers to become familiar with competitions through its beginner-level events and intimate atmosphere. Read More>