SWIMMING
President DYLAN SHAFER | dshafer@ucsd.edu | ucsdclubswim@gmail.com
Officer ANIRUDH CHANDRASEKARAN | a1chandr@ucsd.edu
Officer JACK KAI LIM | jklim@ucsd.edu
Instagram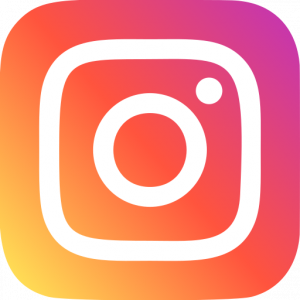 | @ucsdclubswim
UC San Diego's Club Swim Team has been one of the fastest-growing sports club teams since it was founded in 2014. In recent years, our team has grown to more than 60 members, competed in a record amount of meets, and attended CCS Nationals. Competing against UCLA, Stanford, the University of Utah, CU Boulder, Georgia Tech, the University of Virginia, and many more universities across the United States, we ranked among the top 20 teams in the nation. Club Swim provides a place for motivated and passionate swimmers to work out, improve their strokes, and compete in a fun and social environment.   
Club Swim offers 5 coached swim practices a week as well as weights practices two times a week at Spanos Athletic Performance Center and our team attends at least one meet per quarter. So if you're ready, get your cap and goggles on and take a splash with Club Swim! If you are interested in joining the team and want to stay updated, please join the Facebook Group, Discord, or check out our Instagram. Any and all questions can be directed to our captains listed above or our social media platforms. 
Facebook -  https://www.facebook.com/groups/UCSDClubSwim
Instagram - http://www.instagram.com/ucsdclubswim
Discord - https://discord.gg/eRjNexjrVe
For more information pertaining to College Club Swimming, please reach out to the captains or check out their website. 
CCS Home - https://www.collegeclubswimming.com
Club Swim competed in their first official meet of the season at the Spooky Splash Invitational, which the team hosted!  It was the largest meet Club Swim has ever hosted, and the meet was met with amazing success, with great swims by many swimmers and new team records being set. Read More>>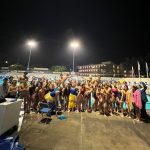 Club Swim had their first Intrasquad Meet of the season held this past Friday. The meet was an overall success with many team members participating and having a great time meeting other members, while getting some racing experience under them as they get ready to race in their first official meet on Sunday, October 22nd. Read More>>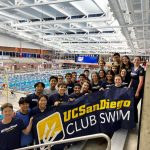 Over Spring Break, the UCSD Club Swim Team competed at the 2023 College Club Swimming Nationals at Ohio State. This event was a landmark moment as this was the first ever Nationals Team to represent the club team at this swimmeet. Read More>>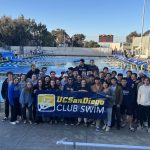 UCSD hosted their annual Winter Invitational, and it was a great success with records being shattered and many amazing swims. Both the men's and women's teams took home 1st place with UCSD coming out on top with a total of 1,789 points, finishing well ahead of 2nd-placed Arizona State University by 570.5 points. Read More>>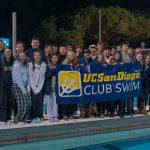 UCSD competed in their second meet of the season at UCLA, and it was a great success with many amazing swims and records being broken. Overall, UCSD finished 3rd place out of the 10 teams competing with 850 total points, behind only UCLA and Grand Canyon University. The men took 2nd place with 519 points, behind Grand Canyon University, while the women took 4th place with 331 points. Read More>>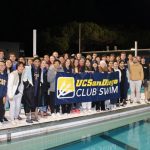 UCSD competed in their first meet of the season at UCLA, and it was a great success with many amazing swims and records being broken. Read More>>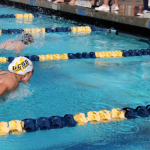 UCSD Club Swim had its first meet of the quarter and first home meet of the year on February 19th, 2022. UC San Diego men came in second place with 662.5 points, behind Grand Canyon University. Combined, UC San Diego scored 952.5 points coming in second place, with GCU in first, ASU in third and USC in fourth. Read More>>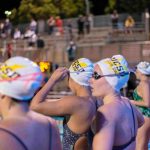 UCSD finally had their first meet since 2019! And it went spectacularly! Read More>>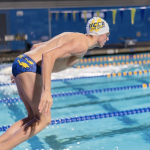 This Winter, the UCSD Club Swim Team travelled to Los Angeles for UCLA's Winter Invitational.  Read More>>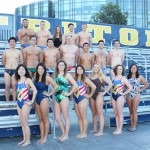 UCSD's Club Swim Team hosted their third ever Winter Invitational on January 18th, 2020! Many of our fellow club swimmers from schools such as UCI, UCLA, GCU, Cal Poly SLO, and USC came through to compete in our own Triton Pool. The whole team came out and performed excellently, with the Men taking the gold and the Women taking the silver. With combined scores, UCSD took second overall to Cal Poly SLO... Read More>>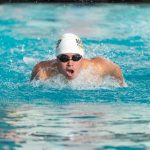 The UCSD Club Swim Team made a splash at the UCLA Fall Invitational on the weekend of November 23rd! Read More>
UCSD Club Swim Team had its first meet of the year at UCLA's December 1st Fall Invitational. Read More>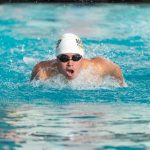 UCSD Club Swim Team hosted the second ever UCSD Winter Invitational meet on Saturday, February 16th. Read More>