The Voyage
Starting June 29th, Tessa and Simon from Outback Adventures will join Captain Paul and crew-mate Dave on an 3 week, 3000 mile sail on SV Andiamo from Honolulu, Hawaii to Seattle, Washington. You can see the journey on this Google Earth
map
. You can follow their daily voyage updates and real time location 
here.
About the Boat
The SV Andiamo is a Buizen 48 sailboat that started her journey from Australia to North America last year. She's a wonderful boat that can practically sail herself, but she will need her trusty crew to get her across the Pacific.
Meals on the Boat
On any expedition, good food helps bring people together. At Outback, we take pride in our creative meal plans (
check out our Falafel cook-along
). This crew has prepared quite a menu for their passage, and they are excited to share some of their recipes with you. They made a portion (and purchased some) of their food back in San Diego and vacuum-sealed it for the trip. Check back to get updates on what they made, how they made it, and where they sourced some goodies from!
Check back for recipes and info soon!
Azucar is a Cuban bakery in Ocean Beach, San Diego. They make amazing coffee and pastries, including a variety of scones. On the boat we have frozen peach champagne scones and blueberry scones that we can bake fresh for ourselves! You can visit azucar here: https://iloveazucar.com/
This Chana recipe is fool-proof and delicious! It tastes even better the next day as the flavors settle, so it's ideal for the boat.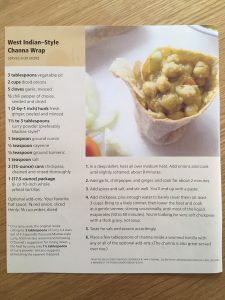 Coffee Cake Recipe
Topping:
1 ½ cups nuts
½ cup sugar
1 ½ cups brown sugar
1 cup flour
2 tablespoons cinnamon
1 stick softened butter
Mix ingredients together and set aside.
Cake:
1 stick butter
1 cup sugar
1 teaspoon vanilla extract
3 eggs
1 cup yogurt
2 cups flour
1 teaspoon baking powder
½ teaspoon salt
1 ¼ teaspoons baking soda
Cream butter, sugar, and vanilla together. Add eggs and yogurt; blend well. Mix dry ingredients together, then add them to the wet ingredients. Pour the batter into an oiled 9x13" pan and sprinkle the topping over it. Bake at 350º for one hour or until done. 
We make up our lasagna recipe every time - check out the video for some inspiration! Hint: I added garlic, nutmeg, and fresh herbs to the ricotta.
We made a few packets of various kinds of sautéed mushrooms, ready to go in any meal. One packet includes trumpet mushrooms and hen of the woods — we set that one aside for our Ramen dinner.
Watching our basil seedlings grow (thanks Denise!) inspired us to make homemade fresh pesto for our trip. Here's the recipe we used.
Pesto Recipe
2 cups basil
½ cup olive oil
2 cloves garlic
3 tablespoons pine nuts
½ cup grated parmesan or romano cheese
salt and pepper to taste
Put all ingredients in a blender and blend until smooth
The meatballs for our spaghetti and meatball dinner were sourced from Poma's Italian Delicatessen in Ocean Beach. They have amazing sandwiches and are open for take-out. Check out their website: https://pomasdeli.com/
This quiche recipe was passed down through a family of French cooks. It may not be your traditional quiche, so be creative with your own recipe and the vegetables (or meat!) you have on hand. Remember the most important ingredient: love.
Quiche Recipe
Crust:
1 ½ cups flour
½ stick butter
¼ cup milk
3 tablespoons oil
salt
Mix flour and softened butter together with a pastry blender or your hands. Make a hole in the center, add the rest of the ingredients, and mix. Roll out the dough and put in a pie pan. Bake the crust at 350º for a few minutes.
Filling:
Veggies (spinach/chard, mushrooms, onion, garlic, etc. you choose!)
Spices (herbs, nutmeg, salt, pepper, etc.)
3 tablespoons creme fraiche
4 eggs, separated
¾ cups grated cheddar cheese
Saute your veggies of choice and add your spices. In a bowl, mix the veggies with the creme fraiche, egg yolks, and cheese. Beat the egg whites with an electric mixer until stiff peaks form. Fold in the egg whites. Put the filling in the pre-baked crust and bake for 20-30 minutes until the center is solid and the top is slightly browned.
Supannee House of Thai is possibly the best Thai food in San Diego. It is located right around the corner from Simon's boat on Point Loma. They grow their own vegetables and their food always tastes impossibly fresh. Some of our favorites that we brought with us on the boat are Pad Thai, Eggplant, and Kabocha Curry. Visit their website here: https://sdthai.com/
Tessa's mom recreated this recipe from a pre-made camping meal. Check out the video to see how she puts it together!
Watercolors
Heading out into nature is a great way to find inspiration and rejuvenation. If you're thinking about going on an expedition (or just want to spend more time in your backyard), try making a mini watercolor set that you can take with you. You don't need to have an artistic background to put a brush to the paper, and we promise it will be relaxing! Tessa made this mini set to bring on the boat, and hopes to capture some sunrises or sunsets during the voyage. Check back for photos upon her return.