UCSD Women's Rugby is part of a growing tradition of women's collegiate rugby in America, and especially in Southern California. The team's SoCal league has become progressively more competitive over the years, thanks to a growing interest in women's rugby. UCSD Women's Rugby has a history of excelling in their league, making it to nationals several times and doing well with the tough competition. UCSD Women's Rugby is known for our yearly tournament called Scrum By the Sea, that happens every November, and includes teams from all over California and Arizona. UCSD Women's Rugby also annually travels to Stanford and Arizona for tournements and regular league play.
Potential Ruggers
It's never too early/late to join the Women's Rugby Team at UCSD and become part of the fastest growing women's college sports in the country. We are always looking for enthusiastic, hard-working, fun or serious athletes who want to try something new. NO EXPERIENCE NECESSARY! None of the current players on our team had any previous rugby experience coming in to college, so don't be intimidated about trying something new -- we all did!
Rugby History
Rugby was born in 1823 when, in a fit of unsportsmanlike rage, William Webb Ellis of Rugby School in England picked up the ball during a match of soccer and ran with it. Since that time, many others have mimicked his actions (both unlawfully during soccer as well as during sanctioned rugby matches). Rugby was brought to the U.S. by 1840, and in 1911, lead to the development of American football with the introduction of the forward pass.
Women, bright enough to avoid playing American football, joined in the sport of rugby by the 1970s by organizing the country's first women's clubs in Colorado and Connecticut. Rugby is at present one of the fastest growing sports among collegiate women in the U.S.
UCSD Women's Rugby was established in 1996, and has quickly grown to be one of the best teams in the Nation.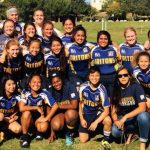 On November 10th & 11th the UCSD Women's Rugby Team put on its 21st annual Scrum by the Sea tournament, this year welcoming eighteen teams from around California and Arizona. Read More>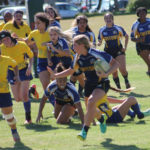 On Sunday, December 2nd the UCSD Women's Rugby team closed out their pre-season with a scrimmage against the Mexicali Rebels. UCSD was proud to welcome the young team as it was Mexicali's first international game. >Read More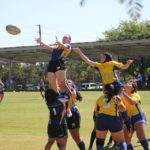 UCSD Women's Rugby opened their season on Saturday with a game against ASU, due to the rain during the week the game was moved from the team's traditional Warren Field to Muir Field. Read More>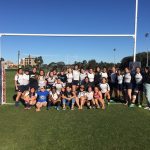 This weekend the UCSD Women's Rugby team traveled to Tucson, Arizona to face off against the University of Arizona Women's Rugby team. Read More>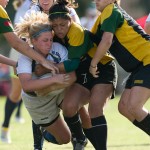 This weekend the UCSD Women's Rugby team traveled to Cal State Northridge to compete against the CSUN Women's Rugby team. Read More>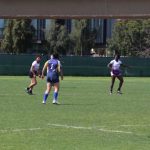 This Sunday UCSD Women's Rugby team played against UCLA's Women's Rugby team at home on Warren Field. Read More>
After taking a weekend off UCSD Women's Rugby traveled up to Santa Barbara this weekend to face off against the UC Santa Barbara Women's Rugby team, who were the division champs last year. Read More>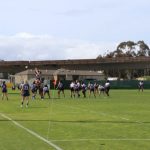 This weekend UCSD Women's Rugby team closed out their 15s season at home with a game against Grand Canyon University Women's Rugby team, whom are currently ranked second in the league. Read More>