UCSD Wins National Collegiate Club Championships!
We finally brought the National Championship home! The National Collegiate Club Championships were held at Chehalem Aquatic and Fitness Center in Newberg, Oregon from November 11, 2022 to November 13, 2022. The tournament was a 16 team bracket tournament composed of teams who had all won their own conference.  The tournament also marks an end to our team's successful, undefeated season 15-0.  
Seeded 5th, our first game of the tournament was against the 12th seed: Dartmouth. Our team set the tone of the game early by scoring ten unanswered goals before half. The final score of the game was 15-5.
Our second game of the tournament was against the 4th seeded team: University of California. The game was highly competitive and the lead continuously flipped during regulation. However, our team switched gears during overtime. During the first three-minute overtime period, our team scored four unanswered goals.  Berkeley was not able to recover during the second three-minute overtime period.  The final score of the game was 11-7.
Our third match of the tournament was against Michigan University (1st seeded team). To start the game, our team fell behind 1-3.  However, we were able to score two additional unanswered goals by the end of the first quarter to tie the game. After the first quarter, our team created a lead and continued to stretch it into a multi goal lead.  The final score of the game was 14-6.
Our fourth and final match of nationals was against California Polytechnic State University, San Luis Obispo: 2nd seed. Again, our team had a very close and competitive game.  Our team went down in the first quarter 0-2. However, we were able to recover by scoring three goals to Cal Poly's one goal in the second quarter. The tie continued into the fourth quarter.  With 3:34 remaining in the fourth quarter, our team took the lead for the first time in the game (6-5).  Within the remaining minutes of the quarter, each team scored another goal.  The final score of the game was 7-6.  
Not only did our team win a national championship, the Most Valuable Player award was given to our own Jake Marquez, and the Coach of the Tournament award was also given to our own Hector Sanchez.  Our own Parker George, Jake Marquez, and Graham McClone were nominated into First Team All Tournament, and Maxwell Black was nominated into Second Team All Tournament.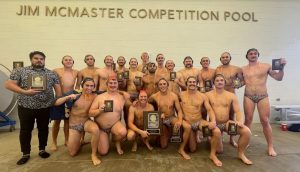 Extra Articles Written!
No. 2 University of California-San Diego Goes the Distance to Overcome No. 4 University of California, 11-7 OT, in 2022 Men's National Collegiate Club Championship Quarterfinals
No. 2 University of California-San Diego Comes Out One Better Than No. 1 California Polytechnic State University, 7-6, to Capture 2022 Men's National Collegiate Club Championship