Aztec Invitational
The women's club water polo team went undefeated in the Aztec Invitational at San Diego State this weekend, November 21st through the 22nd. With a talented group of new players, as well as the strong returning group, the Tritons won all four of their games.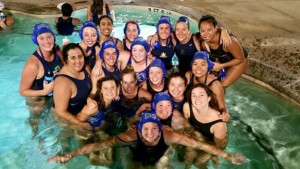 On Saturday, the Tritons beat USC (11-9) and ASU (9-6). The first game against the Trojans was slow to start. At the half, the Tritons only held the lead by one point. However, they fought hard to maintain their lead and win the game. ASU proved to be a formidable opponent. The combination of rough playing and a strong hole set gave the Tritons a bit of trouble. After only having a one game break, the Tritons fought through their fatigue, and proved that the Sun Devils could not stop the power of the Tritons and their Sun God as they won again for their second game of the day.
Sunday started off with a game against UC Santa Cruz. The UC San Diego team started the game with a flurry of goals. The Banana Slugs tried to make a comeback, but the Tritons thoroughly held them off to win the game 8-4.
The last game of the tournament was against UC Irvine. The Tritons took a 5-1 lead in the first quarter, but the Anteaters made a comeback, making the score 9-8 Tritons in the fourth quarter. The Tritons rallied and held off the Anteaters to win the game. The final score was 10-8.
The UC San Diego women's water polo team is excited for their upcoming season after playing in this tournament. ASU and UCI are both in their division, which looks toward a hopeful season. After a wonderful performance of some new players, as well as some fantastic returners, the Tritons are ready for their next tournament at SDSU in February.