One Triton's Journey to the Biggest Stage in Rugby
Written By: Liz Henry '08, Assoc. Director of Recreation, Engagement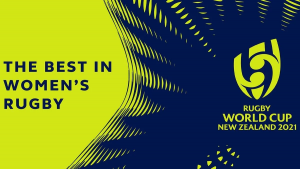 October 8th, 2022, marked the kick off to the 2021 Women's Rugby World Cup (RWC) hosted by New Zealand. Postponed due to the COVID 19 pandemic, this event has been much awaited by the host country, the 12 participating teams, their family and friends, and millions of supporters across the world. What you may not know, is that our very own Evelyn (Evi) Ashenbrucker '12 is representing Team USA on this global stage.
I had the pleasure of watching her compete at the Trust Arena in Auckland, NZ on Sunday, October 16th (GMT) against Japan, where she helped the team secure their first win during the tournament.Her resilience, work ethic, great attitude, and teamwork are at the forefront of her success and something she embodied while at UC San Diego. She is an #ActiveTriton.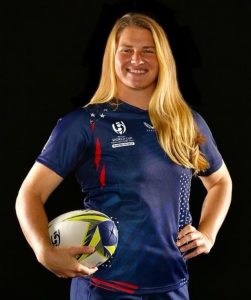 Evi went to Muir college and graduated in 2012 with a degree in Ethnic Studies. She is currently a 3rd year PhD student in Organizational Psychology at Columbia University in NYC and a Leadership Development Consultant, coaching and developing leaders in domestic and global organizations across industries. Evi came across rugby by chance during her search for a club basketball team and wound up in my office with a rugby pamphlet asking about the sport. Scott Berndes, the Sports Clubs Director and my boss at the time, came in, looked at Evi, and said, "Well Liz just finished playing and she needs someone to take her place on the team." As Evi shared this story, I immediately chuckled as we each have that special story of how we came to fall in love with this great sport and find community at UCSD Women's Rugby. Evi attended a practice and that sealed it. She picked the sport up fast, worked hard, and her passion for rugby grew and grew. She became a powerhouse and strong leader for the Triton team.
Photo Credit: World Rugby/Getty Images
I have had the pleasure of knowing Evi since she walked into my office and joined the UCSD Women's Rugby Team in 2008. While we only competed against each on the field, she has been a great friend off. I am blessed to have the privilege of watching her grow into the phenomenal athlete and person that she is. She is an inspiration to so many. She has sacrificed and dedicated a lot to be where she is today. Evi took the time to share how collegiate sports clubs helped jump start her love for the sport of Rugby. Read more below about her journey to the world's biggest stage in rugby.
The RWC quarter-finals are quickly approaching, streaming live on Peacock, so please tune in on Saturday, October 29th at 8:30pm where they will have a rematch against our North American rival, Canada, for a spot in the Top 4.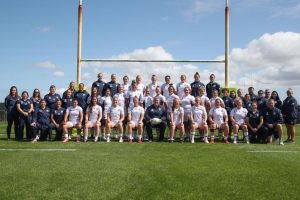 Photo Credit: Neil Kennedy
Q&A with Evi Ashenbrucker
USA Eagle #301
What was your favorite part about or memory from being on the UCSD team?
The friends I made, how we made the most of every long road trip, how hard we laughed, how much we loved costumes, and all the ways the people on the team challenged me to work harder and be a better, more inclusive person.
Photo Credit: Michael Coons
How did you get involved with USA Rugby?
I was named a D1 All American my junior and senior seasons at UCSD and got to tour with the All American team, playing against Canada over the summer. After a long break from rugby due to injuries and personal circumstances, I decided in 2019 to play one more club season with the San Diego Surfers to "retire on my own terms", and that is when I was approached by the USA coach adding me to his player pool.
When did you know you wanted to represent your country/compete at a RWC?
It was always something I hoped for and wanted, but hadn't had the courage to say it out loud or make it a priority, maybe due to a fear of failing. After all the injuries and my post-college rugby career being filled with so much pain and disappointment, I had a renewed outlook and just decided to put my mind and everything to my training and do whatever it took to accomplish this goal. Returning to rugby when doctors had told me I wouldn't be able to made me look at every hard training session, every new bruise, with gratitude instead of fear.
What does it take to compete at that level?
For me, it was making a decision to be extremely honest with myself. I found that most "reasons" for not being able to do something were things I probably had control over. And every day, whether I was getting encouraging news from the National team coach or not, I kept saying this mantra to myself: "If you don't, you'll wish you had." That is what got me to the gym on hard days and kept me engaged mentally amidst distractions, through the pandemic, balancing work and school, etc. So I think it really takes being completely honest with oneself about where you might be letting yourself find reasons "why not" when you really don't need to. Also making sure to work hard but quietly. Everyone is different, but for me, I didn't need to post every conditioning session on the internet or be talking about it all the time. I found the less external attention I tried to place on myself and my goals, really helped me stay focused and get the outcomes I wanted.
"Evi is a gold standard of a teammate to have. She's receptive and always wanting to learn and be better. She keeps a high standard and with pose, demands it of those around her. I can always count on Evi to encourage and make me laugh off the field."
-Hope Rogers (Dellermann), USA Eagle #223
Photo Credit: Neil Kennedy
Tell us a little about your experience at the RWC 2021 (Played in 2022).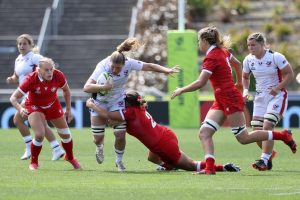 The experience has been a whirlwind of wonderful, hard, and also hard-to-describe moments. It is very meaningful to me coming from a very small, rural town to be able to represent the country on the biggest stage. Every day, no matter how exhausted, I go to sleep with a lot of trust and confidence in my teammates and I have no doubt that they are here for me and that we have all bought into the same goal. The competition and the rugby matches themselves are just the cherry on top of the absolute honor and privilege to be a part of this group of amazing people representing the USA at this World Cup.
Photo Credit: Neil Kennedy
What was your favorite part about or memory from being on this USA team?
Beating Scotland in August 2022 during our United Kingdom Tour in preparation for the RWC. We were up by three points with no time remaining and they had possession. We played like 20+ phases of defense in our 22 meters and played so clean, with so much grit for the remaining minutes of the game that they eventually knocked the ball on, securing the win. It was a testament to our hard work and an exciting showcase of the fight that USA rugby has. We fought hard for that win!
What's next for you? In the world of rugby? Any big goals you want to share?
I will be returning to NYC to complete my graduate school requirements and hopefully continue in my career as a leadership development consultant. I also look forward to paying it forward in rugby when the right opportunity comes up through coaching or otherwise.
What piece of advice would you give to those thinking about joining the sport of rugby and/or UCSD Women's Rugby team?
It is the best decision you will ever make - and be patient and have grace with yourself if it's hard or confusing at first. It took me a couple of years before finding my fit and my stride in the team/the sport and I'm so glad I didn't give up too soon.
How Can You Support Evi and the USA Eagles?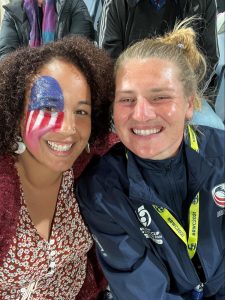 The USA Women's Rugby Team will play Canada at Waitakere Stadium in Auckland, NZ. The quarter finals match will be streaming live on Peacock this Saturday, October 29th at 8:30pm. So tune in and cheer on Evi and Team USA on to victory! If you are interested in watching previous games and highlights, visit the RWC Official Webpage. For more information on how to get involved with a team like UCSD Rugby, other collegiate Sports Clubs, or various UC San Diego Recreation programs, visit https://recreation.ucsd.edu/.
Photo Credit: USA Rugby