Despite being short on players, the Tritons were able to manufacture wins and take care of business at the Directors Cup in Bakersfield.
UCSD played UCR in the finals, who they had faced earlier in the season, but lost to 0-2. The team had minimal subs and many were playing through injuries, but the boys wanted to win more. After a hard fought first half from both teams, the score stayed 0-0. However, the flood gates opened for the Triton's in the second half, as goals came in from Michael Boychuk (2), Eduardo Moran, Paul Jasper, and Michael Korelov with assists from Paul Jasper, William Ross, and Yanis Chenna. UCSD kept a clean sheet and took home the championship with a statement 5-0 victory.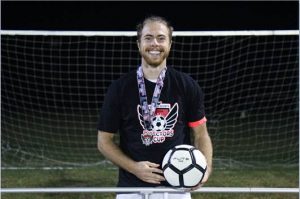 On top of winning the whole tournament, the man on fire, Captain Michael Boychuk capped off a fantastic weekend by earning himself the golden boot for the tournament with 6 goals and an assist in 4 games. Congrats guys!
Interested in joining a Sports Club team? Check out team sites
here.