Recreation was thrilled to facilitate Black Surf Week 2021 which took place last week. We started the week with an outdoor dry-land orientation, did swim tests and practiced paddling in Canyonview Pool and surfed for three days at Scripps Pier. The waves and weather conditions were perfect for learning and introducing participants to the wonderful recreational opportunities UC San Diego has to offer.  It was a huge success and we are grateful to offer such an impactful program to our students!  This program is a collaboration of Muir College, The Black Resource Center, Recreation and Scripps Institute of Oceanography.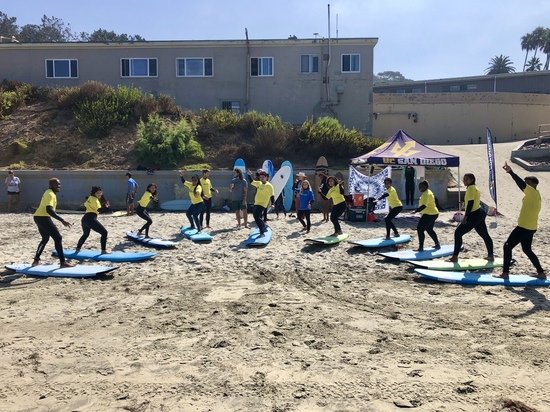 Highlights
Intergenerational: Undergraduates, Graduate students, Staff, Faculty, Alumni and Community members participated!
Diverse
Predominantly Black diasporic folks of African-American, Kenyan, Ethiopian, Caribbean, Latin American, and mixed-race heritage; Black people of various religions; Black people of different gender identifications; Native American, Pacific Islander, Latinx, Asian and white folks participated.
Kumeyaay supporters
Queenette and Prettye Pettiford, of Sycuan band of Kumeyaay, participated in our opening circle
Community connections
Color the Waters drove down from LA to be part of our closing ceremony; We are now connected to Black Girl Surf, Brown Girl Surf, Groundswell, Un Mar de Colores, Wildcoast,
Rollin' Roots
Black owned, vegan food business in San Diego provided the meals this year.
Generous Volunteers from Scripps Institution of Oceanography, Surfgrass Productions, My Own Beat photography, to name a few.