By Vanessa Minehan, Dietetic Intern
1. Simple Spaghetti Squash
(Recipe and Picture from Tawnie Kroll, RDN)  https://krollskorner.com/recipes/simple-spaghetti-squash/
INGREDIENTS
1 spaghetti squash Large or small,

 

depending on how much leftovers you want or how many you are feeding
1 jar marinara sauce
2 Tbsp. olive oil
Optional:
1 tsp. garlic powder
1/2 tsp. pepper
1 tsp. dried oregano
1 clove fresh garlic minced
2 Tbsp. fresh basil
Crumble a turkey patty on top or any protein of your liking.
Add a slice of bread to increase the carbs if desired.
INSTRUCTIONS
Preheat oven to 400 degrees F. Cut spaghetti squash in half and place flesh side up. Lather the olive oil on the insides of the squash and sprinkle with garlic powder and pepper on it as well. Place the 2 halves faced down on a baking sheet lined with foil. Bake for 40 minutes, or until inside is tender. You should be able to run a fork through the flesh easily.
Alternatively
Cook in the microwave – Once the squash is cut in half and you've scooped out the seeds, just flip it upside down in a baking dish, fill it with about an inch of water, and microwave for 10 minutes, or until soft. Each squash may vary.
Cook both halves at ones, or save the other half for another day.
While the squash is cooking, heat up your sauce in a small saucepan on the stove. Add in the basil, garlic, and oregano. I like adding more herbs to my jarred red sauce – if your sauce already has great flavor then don't worry about adding anything!
Serve spaghetti squash in a bowl or plate and top with sauce, enjoy!
2 Minute Thai Peanut Noodles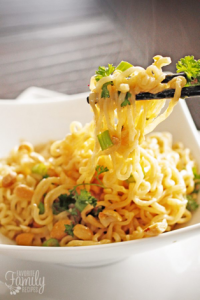 (Recipe and Picture from FavFamilyRecipes.com 
https://www.favfamilyrecipes.com/two-minute-thai-peanut-noodles/)
INGREDIENTS (with Amazon Links) 
INSTRUCTIONS
Prepare ramen as directed on package. Drain all but about 1/4 c. of the liquid from the noodles. Add peanut butter and Sriracha sauce. Stir together until well combined. Top with peanuts and/or green onion. Boom. You're done.
3. Black Bean Soup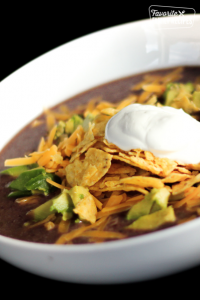 (Recipe and Picture from FavFamilyRecipes.com
https://www.favfamilyrecipes.com/black-bean-soup/) 
INGREDIENTS (with Amazon Links)
INSTRUCTIONS
1. Blend together the black beans with one of the cans chicken broth. Add black bean mixture, the other can of chicken broth, and salt to a large pan. Cook on medium heat until nice and hot. (You don't need to bring it to a boil).
2. In individual bowls, layer the rice, then the soup, then the other toppings.
4. One Bowl Microwave Scrambled Eggs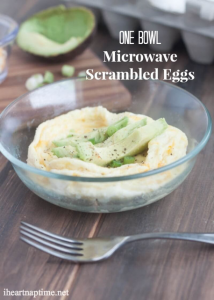 (Recipe and photo from iheartnaptime.net
https://www.iheartnaptime.net/microwave-scrambled-eggs-one-bowl-healthy/)
Ingredients
3 egg whites
1 egg
1 tbsp shredded cheese
salt and pepper
Optional toppings: sliced avocado, green onions, salsa
Feel free to wrap this in a tortilla or as a sandwich between bread slices to create a more satiating meal.
Instructions
Spray a microwave safe bowl generously with cooking spray.

 

 Crack egg whites and egg into the bowl. Whisk for one minutes.

 

Stir in shredded cheese and a dash of salt and pepper.

 

 Place the bowl in the microwave and microwave on high for 1 to 1 1/2 minutes, Watch closely so eggs don't puff up over the edges of the bowl or explode.

 

Carefully remove bowl, top with any toppings and enjoy.
5. Microwave Breakfast Cookie in a Mug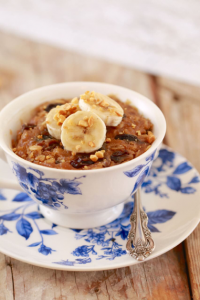 (Recipe and photo from BiggerBolderBaking.com
https://www.biggerbolderbaking.com/breakfast-cookie-mug/)
Ingredients
½ medium banana
1 ½ tablespoons peanut butter
½ tablespoon honey (or agave)
1 tablespoon milk
4 tablespoons oats (rolled or quick oats)
1 tablespoon raisins (seeds or nuts)
Instructions
 In a large microwavable mug mash the banana well with a fork.
 Stir in the peanut butter, milk and honey and mix well together.
Add in the oats and raisins and stir until combined.
Microwave for 45 seconds – 1 minute or until firm to the touch on top. (Cook time is based on my 1200 watt microwave so your timing may vary)
Enjoy warm!
Recipe Notes
You can mix this mug cake up the night before and cook it off in the microwave.
Cooking time will vary greatly depending on your microwave and the width and depth of the mug.

 

The mugs I use are small, roughly 6oz (¾ /1 cup)
Always keep a close eye on your mug while in the microwave so it doesn't over flow or over cook.
You can add in seeds or nuts also.
6. Eggs in a Nest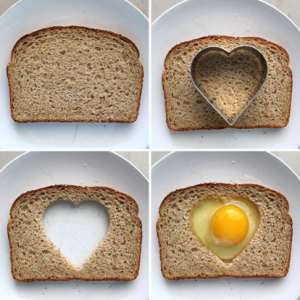 (Recipe and picture from Brit.Co) https://www.brit.co/microwave-brunch/?utm_campaign=pinbutton_hover) 
Ingredients
– 2 slices of bread
– 2 eggs
– Cup/cookie cutter/or anything to cut a circle from the middle of the bread
Feel free to top your toast with sliced avocado, cheese, and/or salsa.
Instructions
Using your cookie cutter, make a whole in the middle of the bread. Crack an egg into the hole. Microwave for a minute at medium power, then in 30 second intervals until the egg is cooked to your liking. Repeat with the other slice of bread and 
If you'd like assistance on your journey to well-being or feel that you would like to improve your relationship with food feel free to contact the Recreation Dietitian, Erin @ ekukura@ucsd.edu. For more information on services go to: https://recreation.ucsd.edu/wellness-services/nutrition/