Photo Credit: Culinary Hill Buddha Bowl
https://www.culinaryhill.com/mediterranean-vegan-bowl/
You know how it goes. Class until 4pm, Gym until 5:30 and then 40$ worth of Safeway produce later you arrive home at 7:30, ravenous with at least 30 minutes of chopping and cooking ahead of you. Or…a bowl of frosted flakes?
The temptation is real.
Instead of calling it quits on a balanced meal altogether and heading for the leftover shelf-stable comfort food or that Domino's pizza from last Saturday night, here's five meals in ten minutes or less that won't break your budget, or your will power for that matter.
Poached Egg on Herbed Avocado Toast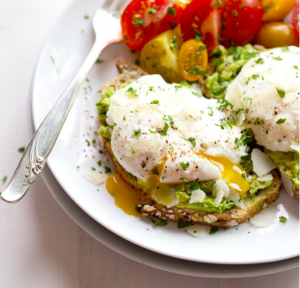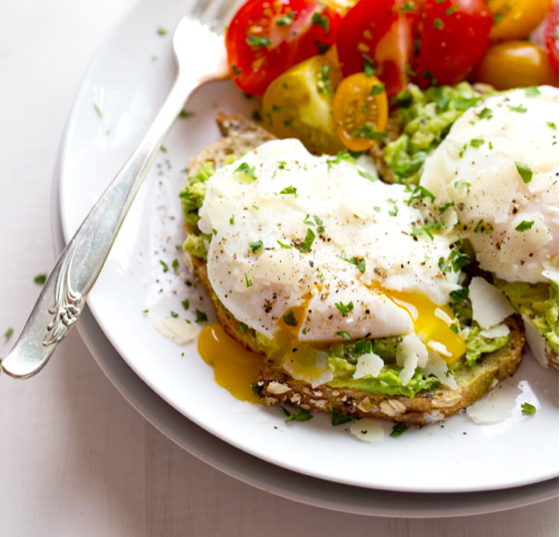 Recipe and Image from Pinch of Yum Website
Ingredients:
2 eggs
2 slices whole grain bread
1/3 medium avocado
2 T Parmesan cheese
Salt and Pepper
Fresh herbs (parsley, thyme or basil) for topping
Cherry tomatoes for topping
Directions:
Bring a pot of water to boil (use enough water to cover the eggs when they lay in the bottom). Drop the metal rims (outer rim only) of two mason jar lids into the pot so they are laying flat on the bottom. When the water is boiling, turn off the heat and carefully crack the eggs directly into each rim. Cover the pot and poach for 5 minutes (4 for super soft, 4:30 for soft, 5 or more for semi-soft yolks).
While the eggs are cooking, toast the bread and smash the avocado on each piece of toast. When the eggs are done, use a spatula to lift the eggs out of the water. Gently pull the rim off of the eggs (I do this right on the spatula, over the water) and place the poached eggs on top of the toast. Sprinkle with Parmesan cheese, salt, pepper, and fresh herbs; serve with the fresh quartered heirloom tomatoes.
Chickpea Pasta Noodles with Vegan Kale Pesto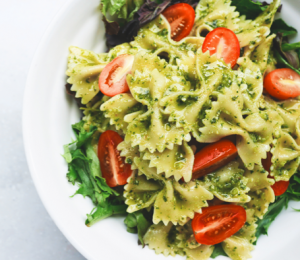 Photo by Eaters Collectiveon Unsplash
Ingredients:
1 T olive oil
1 yellow onion, chopped
3 cloves garlic, chopped
1 bag frozen mixed vegetables
1 box Chickpea-flour pasta noodles
1 cup cherry tomatoes
2 cups spinach or dark leafy greens of choice
1 container Trader Joe's Vegan Kale Pesto
Directions:
Boil water for chickpea noodles. Chop yellow onion and garlic and sauté over medium heat in olive oil for 5 minutes. Add frozen vegetables and sauté for another 5 minutes. Meanwhile, boil noodles for duration detailed on packaging. Drain noodles and mix in vegan pesto and sautéed vegetables.
Assemble plate with handful of greens, 1.5 cups of the pesto noodles and garnish with sliced cherry tomatoes. Enjoy.
Spicy Thai Peanut Salad with Sautéed Mushrooms and Tempeh
Photo and Recipe from @bodybychickpeas
Ingredients:
1 pack organic tempeh
2 cups sliced fresh or frozen mushrooms
¼ cup teriyaki sauce
1 bag Trader Joe's Cruciferous Crunch
1.5 cups cooked edamame beans
1.5 cups brown rice (microwavable is fine)
1 chopped bell pepper
Salted peanuts, for garnish
For Peanut Sauce Dressing:
½ cup natural Peanut Butter
2 T tamari or soy sauce
3 T maple syrup
1.5 T rice vinegar
2-3 T Sriratcha
Water, to desired consistency
Microwave brown rice and let cool in fridge. Cube the tempeh and sauté over medium heat with mushrooms and teriyaki sauce until heated throughout. Assemble cruciferous greens mix, edamame beans, and chopped bell pepper. Add cooled brown rice. Mix together dressing ingredient and pour over salad. Top with 3/4 cup sautéed mushrooms and tempeh mixture and garnish with 1 T peanuts. Enjoy.
Easy Loaded Sweet Potato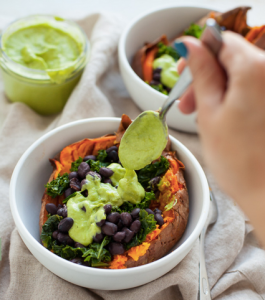 Picture and Recipe by Kara Lydon, The Foodie Dietitian
Ingredients:
1 medium sweet potato
1 tsp extra virgin olive oil
1 clove garlic, minced
1/2 bunch kale, chopped
Salt and pepper to taste
½ cup black beans
½ Avocado, Mashed
Rinse and dry sweet potato and poke 4-5 slits in it for ventilation. Microwave for 4-8 minutes or until cooked through. Meanwhile, heat olive oil over medium heat in a saucepan. Add garlic and cook for 60 seconds or until fragrant. Add kale and toss to coat. Turn off heat and season kale with salt and pepper.
Remove sweet potato from microwave and cut in half lengthwise. Top with sautéed kale, ½ cup black beans and ½ of one avocado, mashed. Enjoy.
Easy Mediterranean Bowl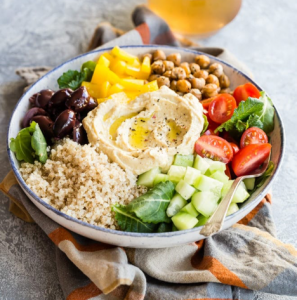 Photo Credit: Culinary Hill Buddha Bowl
https://www.culinaryhill.com/mediterranean-vegan-bowl/
Ingredients:
1 small cucumber, chopped
½ cup cherry tomatoes
2 cups arugula
7-8 kalamata olives
1/3 cup chickpeas
2 T store-bought hummus
1/3 cup cooked quinoa
1 teaspoon olive oil
Vinegar of choice
Salt and pepper
Directions:
Wash vegetables, chop them and place in a mixing bowl. Add olive oil, vinegar, salt and pepper to taste. In a bowl, add the drained and rinsed chickpeas, quinoa, olives and hummus to the vegetable mixture. Top with more salt and pepper as desired. Enjoy!
If you'd like assistance on your journey to well-being or feel that you would like to improve your relationship with food feel free to contact Erin @ ekukura@ucsd.edu.
For more information on services go to: https://recreation.ucsd.edu/wellness-services/nutrition/