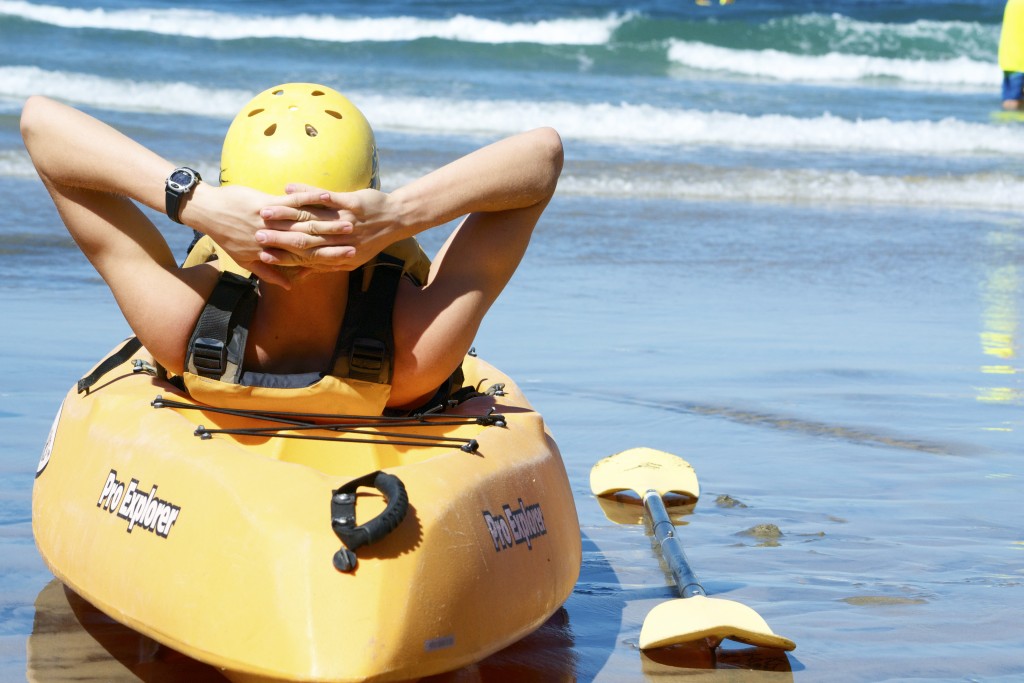 Whether you are sticking around this summer due to summer session classes, jobs, or just to enjoy the beautiful La Jolla summer weather, don't forget to check out what UCSD Recreation has to offer! There are still all sorts of programs and classes that happen over the summer, and here is a list of just a few.
Did you know that intramurals still go on over the summer? Well they do! Basketball (men's and coed), soccer, and softball intramurals will be played this summer and would be a great way to casually workout while playing a favorite sport with friends in your free time.
We offer a Fitness-Yoga Pass that gives fitness fanatics the ability try all different types of yoga classes! The Fitness-Yoga Pass ($75 for students) is an unlimited pass for buyers to use for either Summer Session 1 or 2. If you are too busy to get an unlimited pass, there's also a 10-Time Fitness-Yoga Pass ($60 for students) that gives access to 10 yoga sessions and it never expires!
*Passes can be used for most yoga classes, not all. Must purchase in-person at one of our facilities.
If you are an adventurous person who plans on doing some exploring this summer, head to the Outback Adventures rental shop in Pepper Canyon! Equipment can be rented for any sort of outdoor exploring you might be doing. They have watersports equipment if you want to surf at La Jolla Shores or kayak at the cove; camping equipment for a weekend away with friends; and a lot of other equipment that will make your outdoor adventure affordable and more enjoyable.
Summer is the perfect time to get back in shape, so make sure to check out our Cross Fitlife class! It is an all-inclusive workout that focuses on increasing stamina, power, flexibility, and strength and is formatted to be comparable to trademark workouts such as CrossFit, P90X, Insanity, and more!
Canyonview Pool is open all summer, so if you want to stay in shape through swimming, start our Swim to Santa Barbara Swim Incentive Program! You'll keep track of your laps in a logbook at Canyonview and the goal is to swim 340,000 yards (approximately 200 miles) which is equal to the distance from La Jolla to Santa Barbara. This is an individual program so you can try to finish this as quickly as possible, or take as long as you want! It never expires.
*Inquire in person at Canyonview Pool; lap swim hours are posted online
With warmer summer weather coming, it's a good idea to find an activity that gets you outside and sweating! Taking one of our Tennis Rec Classes would do that for you while helping you sharpen your skills. There's classes from Beginning to Advanced, so no matter your skill level, you can sign up!
Bootcamp Workout in the Gym-Strength and Flexibility Training
Want to improve your strength and flexibility in a fun yet challenging way? Want a great, well rounded workout? Sign up for our Bootcamp Workout in the Gym! It focuses on total body strength, flexibility, and endurance. It's the perfect cross training for any sport or just for getting in shape. Be prepared to work hard!
It's never too early to start planning for next year! Look over all the Sports Clubs we have and pick out one you'd like to join so you are prepared in the Fall to sign up. They are a great way to keep in shape, meet people with similar interests, and you even get to travel with them too! A list of all the Sports Clubs can be found on our new website. Get training now!
All of our weight rooms, gyms, and pools will be open, so feel free to continue to work out on your own. Hours are slightly different over the summer, so make sure to visit our website to view them.
*Note: if you are not taking summer session, you will have to sign up for a Rec Card in order to still have access to our facilities.
Has this school year gotten you super stressed? Well to help you out, try out one of our various massages! Indulge yourself and relax with a private massage with one of our certified massage therapists in our Rejuvenations Massage Therapy center located in Main Gym. It will help you reduce stress, improve circulation, pain relief, and is great for overall health maintenance.
Hopefully one or more of these ideas sounds appealing to you and will help make your summer more enjoyable while staying in shape. Or, check out our brand new website to find the perfect activity for your lifestyle! There's so much we offer that I'm sure you can find the right fit for you. Either way, continue to #GetRecd with UCSD Recreation this summer!